The Best Matrimony Portal For M.A. History Tamil Bride And Groom!
One of the best matrimonial sites for M.A. history for finding a life partner is M.A. History Matrimony. We have brides and grooms who have graduated in M.A. history with tremendous numbers. These days, brides and grooms want their spouses to have a degree in this area. M.A. History is the study of our ancient people and how they survived their lives. Using the M.A. History graduate Matrimony, you can get several profiles as per your expectations. Therefore, you can also find a person who belongs to the same caste, or else if you are interested in no caste profiles, we have no caste M.A. History Brides and Grooms profiles.
Read more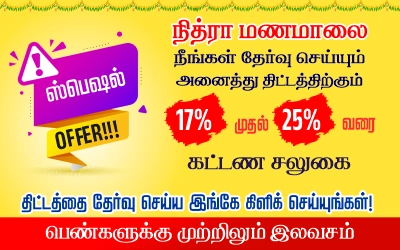 Ma History Brides
Ma History Grooms
Hindu - Caste
Muslim - Caste
Christian - Caste
By Profession
By City
By Education
By Dosham
Second Marriage By Caste
Divorcee By Caste
Divorcee By Location
Second Marriage By Location
Find Your Perfect Match On M.A. History Matrimony

You can access endless profiles of M.A. History Grooms from different castes including Gounder, Sozhiya Vellalar, Viswakarma, Dravidar, Arundhathiyar, Sourashtra, Nadar, Mudaliyar, Vanniyar, and Devar, among others. By using our filter tool, you can search the profiles of M.A. History Matrimony Brides & Grooms based on your preferred area, occupation, education, income, mother language, family background, and complexions in addition to religion and castes. M.A. History matrimonial is the right choice if you're looking for M.A. History brides and grooms.


How To Search For M.A. History On Nithra Matrimony

Many M.A.History brides and grooms from this field have found their soul mates through M.A. History Matrimonial site. Many brides and grooms hold Nithra marriage in high regard as a means of meeting their soul mates and leading fulfilling lives. The success story of thousands of Tamil M.A. History. graduate Brides & Grooms have been posted on our website. Registering your profile with us will help you quickly discover the right partner. Don't make a delay and register now!!


Our
Nithra Matrimony App
Nithra Matrimony is one among the best matrimonial service you could find, very simple and easiest one so far to get a better soulmate for your life, and it is user friendly and designed precisely for all the Tamil people who are searching for a partner, they can find out their ally from the matched list reliant on their bias. Use our Nithra Matrimony App to keep track of your beloved spouse hunt.