The Best M.A. Matrimony Site For Tamil Bride And Groom!
M.A. graduate Matrimony is the best place for those who are searching for 100% verified profiles in Tamil Nadu. Tamil M.A. graduate Brides & Grooms who completed MA History, Journalist, Lawyer, MA Tamil, M Phil, MBA and working as a professor, teacher, lecturer, manager, and officer at government schools and colleges. Nowadays many graduate brides and grooms are looking for partners in the same field. For them, Nithra matrimony is the best solution to find their M.A. Matrimony Brides & Grooms.
Read more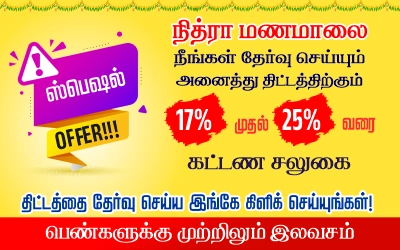 Find Your M.A. Life Companion On Nithra Matrimony

M.A. Matrimonial site provides safety and security. Profiles are listed according to caste, religion, city, language, and profession. It is a very easy way to find your partner. M.A. Matrimony has lakhs of profiles that are genuine. If you are expecting for second marriage profiles, divorce and widow marriage matrimony are also available at Nithra matrimony. Even you can explore your profiles on the basis of age, gender, marital status, job, salary, horoscope details, and various other options given at M.A. matrimonial site.


How To Search For M.A. Profiles On Nithra Matrimony

M.A. Grooms can now select a companion in their neighborhood or even choose a partner from all across Tamil Nadu. If they work in towns like Salem, Chennai, Coimbatore, and other districts M.A. Brides are also available at Nithra matrimony. Install Nithra matrimony and install the happiness in your marriage life!!


Our
Nithra Matrimony App
Nithra Matrimony is one among the best matrimonial service you could find, very simple and easiest one so far to get a better soulmate for your life, and it is user friendly and designed precisely for all the Tamil people who are searching for a partner, they can find out their ally from the matched list reliant on their bias. Use our Nithra Matrimony App to keep track of your beloved spouse hunt.