The Best Matrimony Portal For I.T.I.Welder (Gas and Electric) Tamil Bride And Groom
Do you search for brides and grooms who are ITI welder graduates and have trouble finding your soul mate? You can search through thousands of ITI welder matrimony brides and grooms by clicking Nithra Matrimony. You may see profiles from each district of Tamil Nadu right here. It's easy to get started looking for your special one with Nithra Matrimony. The majority of people today choose to marry partners who are professionally qualified and have a good education due to many personal commitments. Create a profile on Nithra Matrimony if you're looking for Tamil ITI welder matrimony sites.
Read more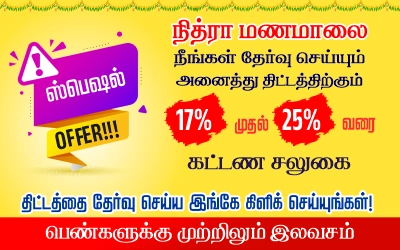 Iti Welder Brides
Iti Welder Grooms
Hindu - Caste
Muslim - Caste
Christian - Caste
By Profession
By City
By Education
By Dosham
Second Marriage By Caste
Divorcee By Caste
Divorcee By Location
Second Marriage By Location
How To Search For I.T.I.Welder (Gas and Electric) Profiles On Nithra Matrimony

Finding ITI welder matrimony grooms wasn't difficult, all you had to do was supply the bare minimum of details, such as your name, hometown, parents' names, career, salary information, contact information, and other preferences like caste, religion, language, height, weight, and horoscope relevant information. Additionally, you can include any goals you may have and hobbies, likes, and dislikes. Second marriages, divorces, and caste no bar profiles were all available on the ITI welder community matrimony sites. Our website also provides information on government marriage for ITI Welder graduates.


Find Your Perfect Match On I.T.I.Welder (Gas and Electric) Matrimony

The best ITI welder community matrimonial site in Tamil Nadu are Nithra Matrimony, which offers assistance to all groups of individuals searching for a suitable spouse. Why wait? A number of NRI ITI Welder graduate brides and grooms have already registered. Start using Nithra Matrimony to meet your soul partner.


Our
Nithra Matrimony App
Nithra Matrimony is one among the best matrimonial service you could find, very simple and easiest one so far to get a better soulmate for your life, and it is user friendly and designed precisely for all the Tamil people who are searching for a partner, they can find out their ally from the matched list reliant on their bias. Use our Nithra Matrimony App to keep track of your beloved spouse hunt.