Find Your Life Companion on I.T.I. at Nithra Matrimony
Nithra matrimony is the leading Tamil matrimony which has lakhs of verified profiles for ITI graduate Brides & Grooms. Never waste your time on untrust full matrimony and money on brokers. They can provide only a few profiles. But ITI Matrimonial site you can get the profiles as you wish. ITI graduated grooms who are working in the reputed industries and office details were given clearly at Nithra matrimony. Government job holding profiles are huge at our site.
Read more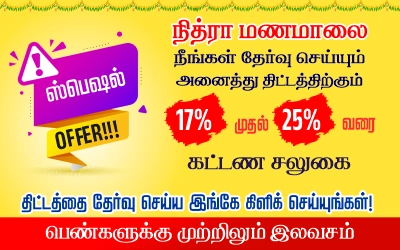 Hindu - Caste
Muslim - Caste
Christian - Caste
By Profession
By City
By Education
By Dosham
Second Marriage By Caste
Divorcee By Caste
Divorcee By Location
Second Marriage By Location
The Best Matrimony Portal For I.T.I. Tamil Bride And Groom!

ITI Matrimony gives details of the brides and grooms all over Tamil Nadu. Begin your search using criteria such as height, weight, employment, caste, religion, and horoscope. For your convenience, second marriage and divorce profiles for ITI brides and grooms were also provided. At Nithra Matrimony, NRI profiles and other professions like doctor, engineer, lawyer, teacher, and manager were also available.


How To Search For I.T.I. Profiles On Nithra Matrimony

ITI Grooms profiles which are verified and getting high pay were given to you at our site. The list includes individuals who are employed as ITI professionals in the districts of Chennai, Salem, Erode, Namakkal, and Karur are given at Nithra matrimony. More professions and brides/groom profiles are here. Let us make your life happy with Nithra Matrimony!


Our
Nithra Matrimony App
Nithra Matrimony is one among the best matrimonial service you could find, very simple and easiest one so far to get a better soulmate for your life, and it is user friendly and designed precisely for all the Tamil people who are searching for a partner, they can find out their ally from the matched list reliant on their bias. Use our Nithra Matrimony App to keep track of your beloved spouse hunt.