The Best Matrimony Portal For I.T.I Automobile Mechanic Tamil Bride And Groom
If you are searching for the most trusted I.T.I Automobile Mechanic graduates matrimony in Tamil Nadu? Then take a look at Nithra Matrimony. ITI Automobile is a well-known and in-demand branch of the ITI field. ITI Automobile is repairing and overhauling all kinds of vehicles such as two-wheelers and four-wheelers. Nowadays there is no specific category for I.T.I Automobile graduates in many Matrimonial sites. But our site initiated I.T.I graduates matrimony site to help all the I.T.I graduates grooms and brides who are all in search of their partners.
Read more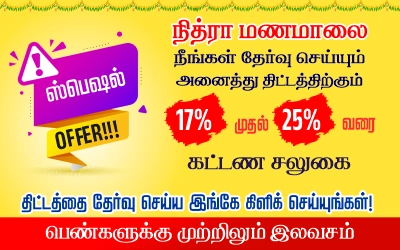 Find Your Perfect Match On I.T.I Automobile Mechanic Community Matrimony

Tamil I.T.I Automobile Mechanic matrimony has plenty of verified I.T.I Automobile Mechanic groom and bride profiles who work in different fields like Automobile mechanics, Maintenance Technician, Auto Service Technician, Mechanic Motor Vehicle, Fitter Automobile, Automobiles Supervisor, etc. Nowadays I.T.I Automobile graduates also earn as same as engineers. Both males and females can register their profiles for free on our site. We have more than 50 castes and subcastes so that brides/ grooms can find their partners from their caste itself.


How To Search For I.T.I Automobile Mechanic On Nithra Matrimony

We have many brides and grooms profile who works in government sectors too. Many people wish to live abroad. Make your fantasy come true by marrying someone from abroad. We have plenty of NRI profiles from many countries like the USA, UAE, Singapore, Malaysia, etc. Users can search for profiles based on their preferences such as caste, profession, education, language, location, complexion, and so on. Many I.T.I Automobile Mechanic brides and grooms have found their partners and happily married through our site. Register your profile on our site, find a perfect match, and marry them through Nithra Matrimony!!


Our
Nithra Matrimony App
Nithra Matrimony is one among the best matrimonial service you could find, very simple and easiest one so far to get a better soulmate for your life, and it is user friendly and designed precisely for all the Tamil people who are searching for a partner, they can find out their ally from the matched list reliant on their bias. Use our Nithra Matrimony App to keep track of your beloved spouse hunt.