Gurukal Community Matrimony Grooms
Temple is one of the peaceful places. Every people visit the temple when they have a bad or facing any hard situation. Praying god makes everyone trustful. Although everyone has great respect for gods. As well as Gurukal has great respect from society. There are many gurukkal matrimony brides and grooms who are out and searching for their partners. If you are one among them, then register your profile in Nithra Matrimony.
Read more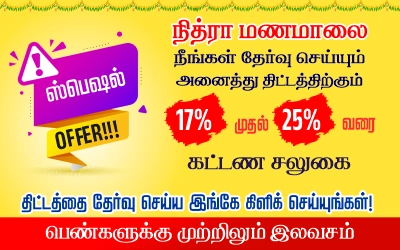 Gurukal Professional Matrimony Brides
The profile you are looking for is currently unavailable.
You can register your details and we will notify you once matching profiles are accessed.

Gurukal Professional Matrimony Grooms
Gurukal Matrimonial Site
If you are from a Gurukul community and searching for the top1gurukkal matrimony tamil, then Nithra Manamaalai is the best choice for you. Free matrimony gurukul in Nithra Matrimony provides you lakhs of Gurukul profiles working in different temples. We have several profiles of groom who works at famous temples like Rameshwaram, Palani, Thiruvanamalai, Brihadeeswarar temple, Meenakshi Amman temple, Srirangam, Nadraja temple, Ranganathaswamy temple, etc.


Tamil Brides/Grooms Gurukal Matrimony

In Nithra Matrimony, we have NRI Gurukal profiles who work at Hindu temples in different countries like the US, UK, Singapore, Malaysia, etc. Free register your profile in Nithra Matrimony to get lakhs of profiles from Gurukal profession. We have many features to make your search easy. Thousands of Gurukal brides and grooms got married successfully through Nithra Matrimony. You too can find your partner easily through Nithra Matrimony!


Our
Nithra Matrimony App
Nithra Matrimony is one among the best matrimonial service you could find, very simple and easiest one so far to get a better soulmate for your life, and it is user friendly and designed precisely for all the Tamil people who are searching for a partner, they can find out their ally from the matched list reliant on their bias. Use our Nithra Matrimony App to keep track of your beloved spouse hunt.