The Best Matrimony Portal For Diploma in Mechanical Engineering (Production) Tamil Bride And Groom!
Are you in search of the top Diploma Mechanical production Engineer Matrimony in Tamil Nadu? Do you believe that there are lakhs of profiles in this field from Tamil Nadu on a single matrimony site? Yes, Diploma Mechanical Production matrimony has lakhs of profiles of brides and grooms from this field. On our site, every profile is verified and it is user-friendly too. Registration is free for all Diploma Mechanical production Brides and grooms. You can shortlist the profiles of Diploma Mechanical production Grooms and brides in which you are interested and select the one profile which meets all your requirements.
Read more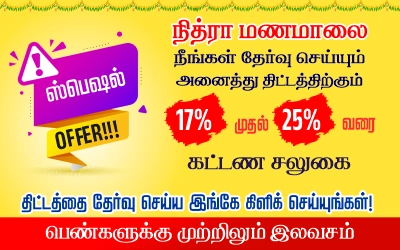 Diploma Mechanical Production Brides
Diploma Mechanical Production Grooms
Hindu - Caste
Muslim - Caste
Christian - Caste
By Profession
By City
By Education
By Dosham
Second Marriage By Caste
Divorcee By Caste
Divorcee By Location
Second Marriage By Location
Find Your Perfect Match On Diploma in Mechanical Engineering (Production) Matrimony

There are many NRI profiles in Diploma Mechanical production community matrimony from various countries such as the United States, United Kingdom, United Arab Emirates, Singapore, and Malaysia. It was more authentic and secure for the users' information. Diploma in Mechanical Engineering brides and grooms can now meet their soul mates at Nithra matrimony and live their lives to the fullest. Brides and grooms in Diploma Mechanical graduate matrimony who work in high-profile companies in various fields such as production engineering, maintenance engineering, mechanical safety engineers, and so on are available.


How To Search For Diploma in Mechanical Engineering (Production) On Nithra Matrimony

On Diploma Mechanical production Matrimonial site, users can search profiles from different categories like religion, caste, income, profession, education, location, family background, physical appearance, complexions, etc. The Tamil Diploma Mechanical production matrimony provides free registration for both males and females. More than thousands of brides and grooms found their partners through our site. You too can find your partner by registering your profile at Nithra Matrimony.


Our
Nithra Matrimony App
Nithra Matrimony is one among the best matrimonial service you could find, very simple and easiest one so far to get a better soulmate for your life, and it is user friendly and designed precisely for all the Tamil people who are searching for a partner, they can find out their ally from the matched list reliant on their bias. Use our Nithra Matrimony App to keep track of your beloved spouse hunt.