The Best Matrimony Portal For Diploma in Computer Engineering Tamil Bride And Groom
Diploma Computer Engineering Matrimony is the best and most trustful matrimonial site for diploma in Computer Engineering graduates. Many people wish to marry a Diploma Computer Engineering Brides and Grooms because they have a great scope. The computer firm is one of the fast-growing and will remain for a good many years. A diploma in Computer Engineering will assist in developing a strong foundation in hardware, software, operating systems, and computer architecture, as well as understanding their applications in other fields.
Read more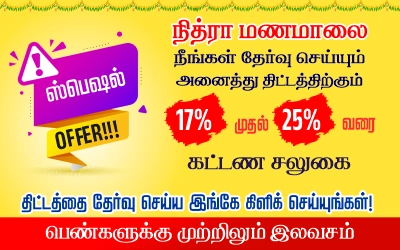 Diploma in Computer Engineering Brides
Diploma in Computer Engineering Grooms
Find Your Perfect Match On Diploma in Computer Engineering Matrimony

You can freely register your profile in Nithra Matrimony free. The registration process on our site is also very easy and simple. We have infinite numbers of Diploma Computer Engineering Grooms and brides profiles with us. Expectations are the basic desires of human beings, as every brides / groom has unique expectations about their partner. But many failed to get a partner as they expected. But Tamil Diploma Graduates Matrimony is there to help you to find a partner as you expected.


How To Search For Diploma in Computer Engineering On Nithra Matrimony

Just register your profile on our site and drop all your expectations there like age, marital status, profession, education, salary, location, doshas, zodiac sign, mother tongue, vegetarian or non-vegetarian, color, height, weight, etc. According to your expectations, we display you thousands of Diploma Graduates Brides and Groom's profiles. If you are interested in any profile will inform both sides. And if there is a mutual interest, we give you your interested Diploma Graduates grooms or bride's personal information to take the further steps. This is a very easy process in finding a future mate, so don't miss this chance and register in Nithra Manamaalai.


Our
Nithra Matrimony App
Nithra Matrimony is one among the best matrimonial service you could find, very simple and easiest one so far to get a better soulmate for your life, and it is user friendly and designed precisely for all the Tamil people who are searching for a partner, they can find out their ally from the matched list reliant on their bias. Use our Nithra Matrimony App to keep track of your beloved spouse hunt.