Free Matrimony Sites In Dindigul
Finding the ideal partner is the key to a great marriage, not bringing two imperfect people together. Young people still dream of getting married, expect their spouse to be just like them, and look for the best matrimony in Dindigul. Are you searching in Dindigul for a bride or groom for your loved ones? You may locate your companions with the aid of Nithra Matrimony. We have various verified Dindigul matrimony profiles. Dindigul is the fifth largest city in Tamilnadu. Dindigul residents are usually polite and disciplined.
Read more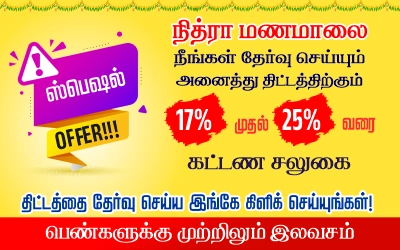 Dindigul Matrimony Brides
Dindigul Matrimony Grooms
Search Your Brides/Grooms In Dindigul Online Matrimony

They are polite and respectful to others. Due to its free membership, Nithra Matrimony act as a free matrimony site in Dindigul. Up to the wedding, women can view the groom's profile without charge. For access to the bride's profile, men should pay. There are 5 packages named standard, Silver, Gold, Diamond, and Platinum to activate. You can access countless brides' profiles by activating them. You may quickly choose a profile by filtering the ones in Nithra Matrimony according to your needs. Many brides and grooms want their partners to work in the same field. Numerous occupations are represented in Nithra Matrimony like Software engineers, doctors, businessmen/women, advocates, teachers, banking sectors and government employees, etc.


Best Dindigul Matrimony Profiles

Many profiles have salaries of atleast of 50000. NRI profiles are many as well. We have grooms and brides from various religions like Hindus, Muslims, and Christians. Also, there are several castes Dindigul matrimony profiles such as Vellalar profile, Brahmins profile, Nadar, Chettiyar, Devar, Vanniyar, and Dravidar, among others. There are also people who speak other languages, such as Tamil, Malayalam, Hindi, Telugu, Kannada, etc. You can check who saw and expressed interest in your profile. We'll keep all of your information in absolute secrecy. The brides or grooms you are interested in will provide information like as a photo, phone number, etc. Please be careful of the numerous fraudulent websites out there that may try to con you. Many brides and grooms are happily married through Nithra marriage matrimony in Dindigul. There are Tamil brides & grooms profiles that have been completely verified. You can also have a happy life and discover your soul mate. Therefore, register with us and search for your spouse.


Our
Nithra Matrimony App
Nithra Matrimony is one among the best matrimonial service you could find, very simple and easiest one so far to get a better soulmate for your life, and it is user friendly and designed precisely for all the Tamil people who are searching for a partner, they can find out their ally from the matched list reliant on their bias. Use our Nithra Matrimony App to keep track of your beloved spouse hunt.