Coimbatore divorcee matrimony for Tamil brides and grooms
Coimbatore is a beautiful city in south India, are you from Coimbatore and expecting a life partner in Tamil Nadu? Then register your information on Coimbatore divorcee matrimony, brides, and grooms profiles are enormous on Nithra matrimony as per your expectations.
Divorced brides in Coimbatore now freely search for their future partner on Nithra matrimony, the registration is completely free for all Tamil brides and grooms. A divorced person who is searching for their soulmate can meet them on Nithra matrimony.
Read more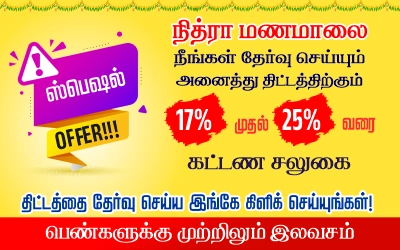 Coimbatore Divorced Matrimony Brides
Coimbatore Divorced Matrimony Grooms
Make your love on Coimbatore divorcee matrimony

Divorced grooms in Coimbatore can explore the profiles on the basis of education, location, and profession, many brides who are working in government jobs and as teachers, doctors, engineers, and auditors are waiting on the divorced matrimony Coimbatore.

Most people would like to marry a person from their own community for them we have listed the Coimbatore divorcee brides Profiles details on the community wise. You can even search the profiles for your son/daughter, brother, friends, and sisters. Enter into Coimbatore divorcee matrimony login and find the soul mate today!


Begin your beautiful life on Coimbatore divorcee matrimony

Brides from various locations can provide valid information like their name, qualification, caste name, religion, age, and expectations to find the Coimbatore divorcee grooms Profiles. Find your lovable pair on the Coimbatore divorcee matrimony free search.


Our
Nithra Matrimony App
Nithra Matrimony is one among the best matrimonial service you could find, very simple and easiest one so far to get a better soulmate for your life, and it is user friendly and designed precisely for all the Tamil people who are searching for a partner, they can find out their ally from the matched list reliant on their bias. Use our Nithra Matrimony App to keep track of your beloved spouse hunt.