Civil related works Matrimony Brides/Grooms
Are you searching for the best civil-related bride/groom on matrimony Tamil? Nithra Matrimony is most famous for civil related matrimony tamilnadu. When compared with other matrimonial sites, Nithra matrimony has the high number of civil related works for bride's and groom's profiles. Through Nithra Matrimony you can find your partner very soon, as we have thousands plus profiles in this field. If you are looking for a bride or groom for your loved one can register your profiles in Nithra Matrimony for free.
Read more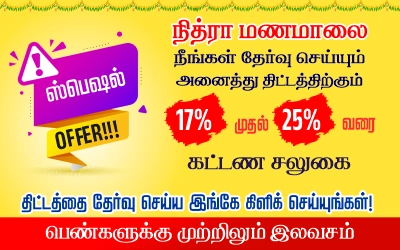 Civil Related Works Professional Matrimony Brides
Civil Related Works Professional Matrimony Grooms
Best Civil related works Matrimonial Site

Expectations are the common thing that will be in everyone's mind. Especially when it comes to marriage, everyone built a hill of expectations. The most basic expectation that every bride and groom have is their partner should be in the same profession. This leads to having a happy life without any misunderstandings. Brides and grooms from Civil related works can easily find there in this field. We have many fields in Civil related work like Engineer in geotechnical, Engineer specializing in water resources, and Engineer in structural design. Engineer consultant, Engineer in nuclear power, Engineer for planning, Project management in engineering etc.


Tamil Brides/Grooms Civil related works Matrimony

The registration process in Nithra Matrimony is very simple. Browse the Nithra Matrimony site or install Nithra Matrimony app from the play store. Enter all the required details for the registration like Name, DOB, location, contact number, picture, profession, income, etc. Once the registration is over, our team will call you for the verification. After that, you will get the brides/grooms profile as per the details you have given in the registration. Register in Nithra Matrimony as soon!


Our
Nithra Matrimony App
Nithra Matrimony is one among the best matrimonial service you could find, very simple and easiest one so far to get a better soulmate for your life, and it is user friendly and designed precisely for all the Tamil people who are searching for a partner, they can find out their ally from the matched list reliant on their bias. Use our Nithra Matrimony App to keep track of your beloved spouse hunt.