Find Your Pair At Church Of South India In Nithra Matrimony
Did you get tired of searching for brides/ grooms in the Church of South India? Get your better half in Nithra Matrimony. One of the most trustful matrimonial service providers in Tamil Nadu is our Nithra Matrimony. The person who is going to change your life into more colorful is waiting on our site. To see who is your life-changer, register now at Nithra Matrimony.
Read more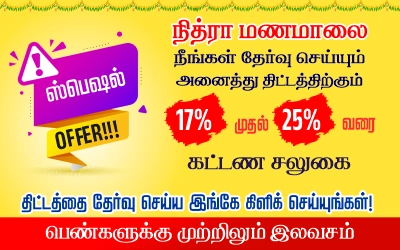 Church Of South India Matrimony Brides
Church Of South India Matrimony Grooms
Choose Your Life Partner in Church of South India

In search of the best partner in the Church of South India? The best way to find your soul is here. Nithra Matrimony is the No.1tamil matrimony in Tamil Nadu running successfully with many happy customers. Thousands of matches are here, you can explore all the profiles and take your time and choose your future partner. Profiles for the Church of South India community are numerous so you can have the opportunity to take your own time to choose the perfect partner along with your family.

It was the safest Matrimonial site with several verified profiles. You can select your partner based on their age, complexion, height, professional, family background, and native place every detail is mentioned clearly for you on Nithra Matrimony. The best on our Matrimony is that it is free for both females and males for registration.


Enormous profiles in Church of South India

You need not spend lavish amounts on the brokers or intermediates to find your best partner in the Church of South India community in Tamil Nadu. All you need to do is just enter into our Nithra Matrimony website. There is an option, to sign up/ free registration on the home page, enter your mobile number get an OTP and start to provide your basic details like name, father/mother name, address, caste, community, religion, mother tongue, salary, job, native place, and other details includes your expectations and hobbies shall be mentioned on the website.

Based on your profile details, many profiles will approach based on your Church of South India community and proceed to the next procedure. You need not worry about the security, we cannot share your profiles, or contact details unless your wish.


Perfect Matches for you in Church of South India

Here we provide the advance and exclusive plans to view more profiles, if you need the particular plan, you can activate it from us and explore even more Church of South India profiles in Tamil Nadu. All kinds of people can enroll and get their beloved ones. Not only cityside people but also village peoples are struggling to find their future husband/ wife for them this was an easy way to get the perfect matching for them through Nithra Matrimony. If you have doubts or queries regarding registration you can contact the 24/7 customer services or may ping a message through the Whatsapp number that was given on our webpage.

For even more convenience download our app Nithra Manamalai (Nithra Matrimony) from the Play store and find a partner for yourself, relatives, brothers/sisters, friends, and colleagues, and make your life more special with your beloved one from the Church of South India community. Install Nithra Matrimony today and make your future to be filled with love, joy, and prosperity.


Our
Nithra Matrimony App
Nithra Matrimony is one among the best matrimonial service you could find, very simple and easiest one so far to get a better soulmate for your life, and it is user friendly and designed precisely for all the Tamil people who are searching for a partner, they can find out their ally from the matched list reliant on their bias. Use our Nithra Matrimony App to keep track of your beloved spouse hunt.