Best Second marriage matrimony for Tamil brides and grooms
Are you expecting a second marriage? You can enroll your details with free registration on Nithra matrimony. All the profiles are verified and 100% safe. On Chennai second marriage matrimony site, you can choose your lovable partner based on educational qualification, caste, religion, and so on.
Second marriage brides in chennai can view numerous profiles for free until their wedding on Nithra matrimony. It was the best offer and does not available on any other matrimony. Second marriage grooms in chennai can start registering their information with budget friendly plans on our site.
Read more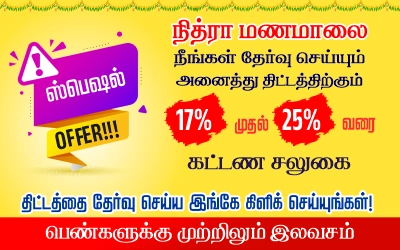 Chennai Second Marriage Matrimony Brides
Chennai Second Marriage Matrimony Grooms
Meet your lovable partner on Second marriage matrimony

Chennai second marriage community matrimony offers lakhs of Tamil brides and grooms details from various communities and castes. You can even choose them based on their mother tongue, language, and so on. Many special features are provided to meet your expected life partner.

Brides and grooms who are working as a teacher, professors, IT professionals, and many other government job holders profiles are also listed on our site. Start searching for your dream partner on chennai second marriage matrimony free search.


Your life partner on Second marriage matrimony

Many users have happily found their love on Nithra matrimony and now it's your turn to discover your expected match. Chennai second marriage grooms Profiles are listed according to their age, job, caste, etc. If you have any dosham like rahu,, kethu, sevvai, you can meet them on chennai second marriage brides Profiles.


Our
Nithra Matrimony App
Nithra Matrimony is one among the best matrimonial service you could find, very simple and easiest one so far to get a better soulmate for your life, and it is user friendly and designed precisely for all the Tamil people who are searching for a partner, they can find out their ally from the matched list reliant on their bias. Use our Nithra Matrimony App to keep track of your beloved spouse hunt.