The Best Matrimony Portal For B.Tech. Information Technology Tamil Bride And Groom!
Are you looking for the best B.Tech Information Technology matrimony for brides & grooms in Tamil Nadu? If so, Nithra Matrimony is your best option. We have a huge selection of B.Tech information technology brides from various districts in Tamil Nadu. We offer you a registration process for all Tamil Nadu brides and grooms. Various NRI profiles who are working in international companies as a manager, web developers, IT security, and programmers profile also listed at Nithra matrimony.
Read more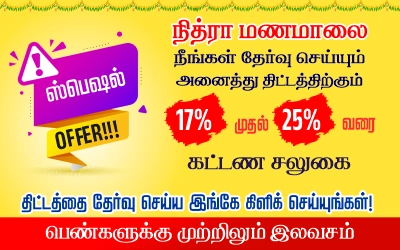 Btech Information Technology Brides
Btech Information Technology Grooms
Hindu - Caste
Muslim - Caste
Christian - Caste
By Profession
By City
By Education
By Dosham
Second Marriage By Caste
Divorcee By Caste
Divorcee By Location
Second Marriage By Location
How To Search For B.Tech. Information Technology Brides & Grooms On Nithra Matrimony

Users have the option of searching profiles based on preferences such as caste, career, education, location, complexions, etc. Create a profile on Nithra Matrimony and begin looking for your future partner at Tamil B.Tech Information Technology matrimony sites. The majority of people are eager to wed someone with B.Tech graduates. Are you trying to find the top websites for B.Tech information technology grooms? There is the best solution for you that is Nithra Matrimony.


Find Your Perfect Match On B.Tech. Information Technology Community Matrimony Sites

The B.Tech information technology matrimonial site has fantastic profiles from many castes and religions, including Vaniya Chettiar, Pillai, Kallar, Chettiar, and Maruthuvar. You can even select based on the brides and grooms who speak Tamil, Telugu, Kannada, or Hindi. Stop spending your time and money on brokers and untrustful matrimonies. Install Nithra matrimony to start a successful life.


Our
Nithra Matrimony App
Nithra Matrimony is one among the best matrimonial service you could find, very simple and easiest one so far to get a better soulmate for your life, and it is user friendly and designed precisely for all the Tamil people who are searching for a partner, they can find out their ally from the matched list reliant on their bias. Use our Nithra Matrimony App to keep track of your beloved spouse hunt.