The Best Matrimony Portal For B.Sc. Visual Communication Tamil Bride And Groom!
Are you a B.Sc. Visual Communication Graduated and you searching for your partner in the related field, On B.Sc. Visual Communication Matrimony you can discover your other half. There are various profiles available in B.Sc. Visual Communication Matrimony with 100% verified profiles. B.Sc. Visual Communication graduate Matrimony is available for both brides and grooms. We offer free registration on our website for B.Sc. Visual Communication Brides and grooms. Make use of Nithra Matrimony to find your beloved one. Our Nithra Matrimony is the most dependable matrimonial service in Tamil Nadu.
Read more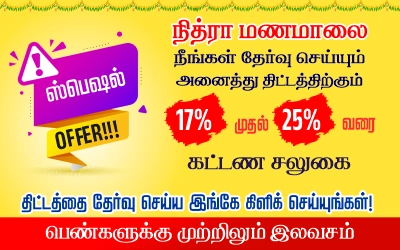 Bsc Visual Communication Brides
Bsc Visual Communication Grooms
Hindu - Caste
Muslim - Caste
Christian - Caste
By Profession
By City
By Education
By Dosham
Second Marriage By Caste
Divorcee By Caste
Divorcee By Location
Second Marriage By Location
Find Your Perfect Match On B.Sc. Visual Communication Matrimony

B.Sc. Visual Communication Grooms / Brides can track their life companion profiles with the aid of Nithra Matrimony, at your preferred location. Today, this sector's potential is in Print and production, media, photography, journalism, the advertising industry, film industry, production of film and content, freelancing, and many more. Most B.Sc Visual Communication graduates desire their partner to be in the same field, and there are numerous profiles of Brides and grooms in B.Sc. Visual Communication community Matrimony. B.Sc. Matrimonial site has many community divisions. Our site is the most reputable matrimonial site in Tamil Nadu with the best customer service. Numerous clients of the Nithra Family live happy lives.


How To Search For B.Sc. Visual Communication on Nithra Matrimony

If you are awaiting brides or grooms from the same social class of B.Sc. Visual Communication. A vast number of profiles from more than 50 castes are available on B.Sc. Visual Communication Matrimonial Site. There are caste no bar profiles where you can find your kindred soul if you're not bothered about caste or religion like some brides and grooms. NRI profiles from numerous nations as well as a variety of government occupations are also easily available on our site. Tamil B.Sc. Visual Communication matrimony can select their partner from the different religions of Hindu, Christian, and Muslim profiles which contains details about their earnings, qualifications, line of work, mother tongue, physical characteristics, skin tones, etc. Register right now to begin living your dream life with Nithra Manamaalai!


Our
Nithra Matrimony App
Nithra Matrimony is one among the best matrimonial service you could find, very simple and easiest one so far to get a better soulmate for your life, and it is user friendly and designed precisely for all the Tamil people who are searching for a partner, they can find out their ally from the matched list reliant on their bias. Use our Nithra Matrimony App to keep track of your beloved spouse hunt.