The Best Matrimony Portal For B.Sc. Nursing Tamil Bride And Groom!
Are you a Nurse and looking for a b.sc. nursing matrimony site? Nithra Matrimony is the best nursing matrimony site in Tamil Nadu. Nurses are indispensable in the healthcare industry. Nurses observe, assess, and ensure the proper care of patients, whereas doctors only diagnose disease and treat it. Nurses play a responsible role in society. So marrying a nurse would be great and they lead a most responsible role. b.sc. nursing graduate matrimony has several verified profiles.
Read more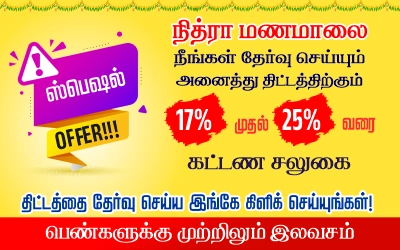 Bsc Nursing Brides
Bsc Nursing Grooms
Hindu - Caste
Muslim - Caste
Christian - Caste
By Profession
By City
By Education
By Dosham
Second Marriage By Caste
Divorcee By Caste
Divorcee By Location
Second Marriage By Location
Find Your Perfect Match On B.Sc. Nursing Matrimony

B.sc. nursing brides and grooms who work in different healthcare fields like Hospitals, Military Nurse, Emergency nurses in the ambulance, home nurses, Clinical nurses, etc with good pay are available on our site. B.sc. nursing grooms and brides can freely register in Nithra Matrimony. Our site is one of the most trustful b.sc. nursing matrimonial sites in Tamil Nadu. We have 50+ castes and subcastes from religions such as Hindu, Muslim, and Christian.


How To Search For B.Sc. Nursing On Nithra Matrimony

Users can search by different categories according to their expectations. We have both the private hospital nurses' profiles, as well as government jobs. B.sc. nursing community matrimony has good customer care service. If you have any queries, you can contact our 24 hours customer care. Every client is happy and satisfied with their life with their soulmate which they find through Tamil b.sc. nursing matrimony. Register your profile with Nithra Manamaalai.


Our
Nithra Matrimony App
Nithra Matrimony is one among the best matrimonial service you could find, very simple and easiest one so far to get a better soulmate for your life, and it is user friendly and designed precisely for all the Tamil people who are searching for a partner, they can find out their ally from the matched list reliant on their bias. Use our Nithra Matrimony App to keep track of your beloved spouse hunt.