The Best Matrimony Portal For B.Com. E-Commerce Tamil Bride And Groom
B.Com E-Commerce Matrimony is here to provide you with an enormous number of brides and grooms from various districts of Tamil Nadu. All the profiles are genuine and 100% verified. B.Com E-Commerce Grooms, who are looking for brides in the same field can find their perfect partner through Nithra matrimony. Brides and Grooms who are working as Customer Relation Manager, Consultant, and Customer Executive officers at well-known industries and companies are available at Nithra matrimony. Register and meet your life partner at B.Com Matrimonial site today.
Read more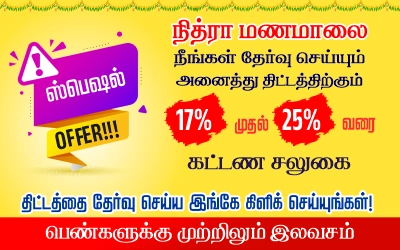 Bcom Ecommerce Brides
Bcom Ecommerce Grooms
Hindu - Caste
Muslim - Caste
Christian - Caste
By Profession
By City
By Education
By Dosham
Second Marriage By Caste
Divorcee By Caste
Divorcee By Location
Second Marriage By Location
How To Search For B.Com. E-Commerce Profiles On Nithra Matrimony

Tamil B.Com E-Commerce Matrimony offers free registration for Tamil brides and grooms. Lakhs of verified profiles from many castes and religions including Hindu, Christian, and Muslim are provided at our matrimony. B.Com E-Commerce Brides profiles who are working in government jobs were also available at Nithra matrimony. Many NRI B.Com E-Commerce Grooms profiles who are working in the famous e-commerce with high pay salary profiles are categorized at Nithra matrimony.


Find Your B.Com. E-Commerce Life Companion On Nithra Matrimony

B.Com graduate Brides & Grooms from Chennai, Madurai, Theni, Chengalpattu, Kancheepuram, Karur, Krishnagiri, Theni, Kallakurichi, Kanyakumari, Thiruvarur, Pudukkottai, etc were given at Nithra matrimony. Profession, Location, Language, Job, Salary, Horoscope, Age, Gender, Marital status, Divorce, and many more filter options are provided for you. Make your life as your wish and have a successful life by Nithra matrimony.


Our
Nithra Matrimony App
Nithra Matrimony is one among the best matrimonial service you could find, very simple and easiest one so far to get a better soulmate for your life, and it is user friendly and designed precisely for all the Tamil people who are searching for a partner, they can find out their ally from the matched list reliant on their bias. Use our Nithra Matrimony App to keep track of your beloved spouse hunt.