The Best Matrimony Portal For B.A. Tamil Bride And Groom
B.A. Matrimony is One of the best matrimonial sites for B.A. graduates for finding a life partner. B.A. graduate Matrimony has brides and grooms profiles who have graduated with B.A. Nowadays, B.A. Brides and grooms desire their spouses to have a degree in the same field as them. On our site, you can get an enormous number of profiles who works in decent jobs and has good pay. Consequently, you can discover a partner who belongs to the same caste and Religion such as Christians, Muslims, and Hindus.
Read more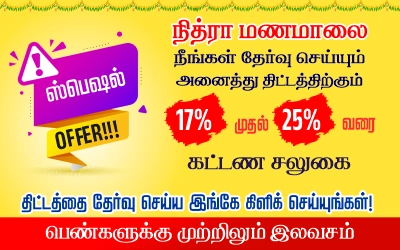 Hindu - Caste
Muslim - Caste
Christian - Caste
By Profession
By City
By Education
By Dosham
Second Marriage By Caste
Divorcee By Caste
Divorcee By Location
Second Marriage By Location
Find Your Perfect Match On B.A. Community Matrimony

Both B.A. Grooms and Brides can register their profiles for free on our site. Additionally, there are many different castes among us, including Gounder, Sozhiya Vellalar, Viswakarma, Sourashtra, Dravidar, Devanga, Nadar, Mudaliyar, Vanniyar, Devar, and so on. By using our filter feature, B.A. Matrimony Brides & Grooms can search not only by religion or caste but also by your desired area, career, education, income, mother tongue, family background, complexions, etc. Our website is the greatest choice for you if you're looking for the top B.A. matrimonial site in Tamil Nadu.


How To Search For B.A. On Nithra Matrimony

Thousands of brides and grooms from this field have found their soul mates through B.A. Matrimonial site. Several Tamil B.A. graduate Brides & Grooms place Nithra matrimony in their hearts in hopes of finding the right life partner and leading happy lives. On our website, thousands of brides and grooms have shared their success stories. Register your profile as well, and you'll soon find your ideal mate very soon and you too place us in your heart.


Our
Nithra Matrimony App
Nithra Matrimony is one among the best matrimonial service you could find, very simple and easiest one so far to get a better soulmate for your life, and it is user friendly and designed precisely for all the Tamil people who are searching for a partner, they can find out their ally from the matched list reliant on their bias. Use our Nithra Matrimony App to keep track of your beloved spouse hunt.